-Invisalign VS. Braces-
If you are like millions of people that want braces, you might be scared that you are going to get stuck with a bunch of nasty, uncomfortable metal wrapped around your teeth and throughout your mouth. This isn't necessarily the case, though. A lot of people are beginning to side with the choice of using Invisalign. This new method for straightening teeth uses durable, custom made aligners, rather than heavy metal wires. It's quite simple, actually. You will wear one set of aligners for a set amount of time, and after the teeth have comfortably shifted to the set point, the patient simply moves on to the next set. Invisalign is simple to work with, comfortable, and has proven to be extremely successful with individuals seeking a wide variety of different types of treatment.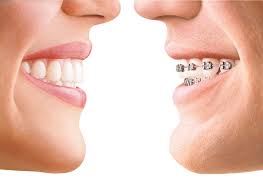 Making The Best Choice For Yourself
Are you wondering if Invisalign will work for you? Well, the following tips will give you a better idea as to whether you would be an excellent candidate for Invisalign in Valencia. How crooked are your Teeth? Invisalign is an ideal choice for almost anyone experiencing the majority of common misalignment problems. However, it is possible that Invisalign will not consistently work with instances that are considered quite serious, such as severe crowding problems and distinctly large overbites need more sophisticated techniques of correction by your Valencia dentist.
Nevertheless, Invisalign does not have any problems correcting issues that are most common. This includes a crossbite, underbite, overbite, teeth that are crowded, and gaps between teeth.
Stages of Development in Teeth
Age is another variable. The teeth continue to develop through the teen years, and for this reason some of our younger patients can rarely make proper use of Invisalign. It is just not possible to produce aligners that are equally precise at this age, as the child's teeth are constantly changing. In the event that you are wondering about Invisalign in your late teens, our cosmetic dentist in Valencia can quickly determine whether custom aligners could work for you and your smile.
Most of the time, those aged 13 years or older easily qualify for Invisalign use, but many teenager's teeth continue to grow beyond that age for a number of years. When it comes to adults, there is no age limit. It's possible for you to begin using Invisalign in your 50's or beyond!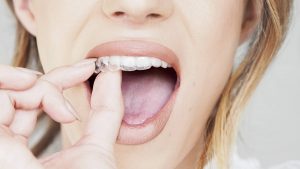 Smile Smart, Not Hard
How hard do you want to work for straight teeth? It isn't possible to remove conventional braces once they have been placed, and they are firmly attached until they are removed by an orthodontist in Valencia CA. However, with clear aligners, you can pop them out at any time you like. It's actually required that they be removed when you are eating food or drinking beverages other than water. Afterwards, they easily go back on top of the teeth, continuing to effectively straighten your smile.
That being said, there is a certain level of self-discipline that is required from patients seeking the best results of such a product. Your Valencia dentist will inform you of the minimal number of hours per day that are needed to maintain quality results in the long run. Invisalign may not end up working very well for those that are unable to commit to this. Contemplate your everyday routine and think about how Invisalign will fit into it. Invisalign has a web-based Smile Assessment Test which will assist you in determining whether or not you are an ideal candidate for the treatment.
We'll Help in Your Decision!
Needless to say, it is not a foolproof treatment, and you still need to visit with our orthodontist. However, in the event that you successfully obtain and use Invisalign, you will see results unlike any other form of orthodontic treatment. Even if you do not think you'd be a great fit for Invisalign, you should check with our dentist in Valencia CA. We just might surprise you. Let a professional take a good look at your mouth and make the final decision when you make an appointment with us today.